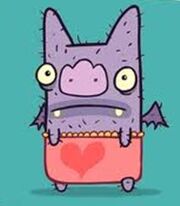 Batty (voiced by Julie Lamieux) is character in Almost Naked Animals.
Personality
Edit
Batty is Poodle's minion.
Appearance
Edit
Batty is a pale blye bat, she has a pale blue nose that is less pale than her skin. Batty wears pale red pannies which has red heart in the front center.