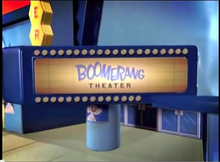 Boomerang Theater
– Boomerang's movie showcase block.
It is the only one of Boomerang's original blocks to be still airing after the channel's rebrand in 2014.
Movies featured
Edit
When the block launched, it featured movies (both theatrical and television films) based on Hanna-Barbera properties, including Yogi's Great Escape, The Man Named Flintstone, Rockin' With Judy Jetson, and The Good, the Bad, and Huckleberry Hound.
When the channel changed its focus to more modern content on January 4, 2015, the block rebranded. The block now airs mainly direct-to-video films based on Tom and Jerry, and Scooby-Doo!.
List of Movies by Boomerang Theater
Edit
Popeye theatrical shorts
Superman theatrical shorts