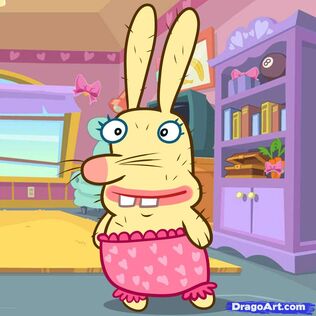 Bunny (voiced by Emilie-Claire Barlow) is a character in Almost Naked Animals.
Personality
Edit
Bunny is short-tempered, she is an activity planner with a sugary personality.
Appearance
Edit
Bunny is a pale-yellow rabbit with a pink nose, she has big pink lips and buck teeth, she wears light blue mascara. She wears nothing but pannies, which are pulled up to her chest, she has short arms and legs. Her pannies are pink with pale-pink colored hearts.