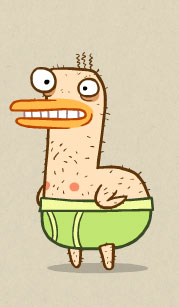 Duck (voiced by David Berni) is a character from Almost Naked Animals. His full name is Archibald William Nightindale Duck III. 
Personality
Edit
Duck does any random job and tries anything to get it done, he is also lactose intolerant.
Appearance
Edit
Duck is a peach-colored duck with a light orange colored beak. Like every Almost Naked Animals character he wears nothing but his underwear which is green and yellow-green colored.