Grizzy and the Lemmings
Genre
Humor
Format
Animation
Created by
Antoine Rodelet
Josselin Charier
Creative director(s)
Directed by:
Victor Moulin
Country of origin
France
Language(s)
English
Production
Production company(s)
Studio Hari
Broadcast
First shown
April 3, 2017
Original run
April 3, 2017 – present
Grizzy and the Lemmin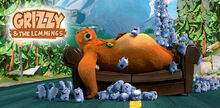 gs is an French animated series that premiered on Boomerang on April 3, 2017. It is Boomerang's second first-run series, the first being Numb Chucks.[1][2] The series first left Boomerang's schedule on March 4, 2018, when it was replaced by Sonic Boom. It returned to Boomerang's schedule on April 30, 2018, but was removed again on May 20, 2018, when it was replaced by Dorothy and The Wizard of Oz and Wacky Races (2017).
The series follows a grizzly bear who occupies the house whilst the forest ranger has gone for unexplained reasons and is always invaded by lemmings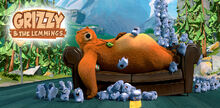 References
Edit
Community content is available under
CC-BY-SA
unless otherwise noted.