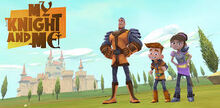 My Knight and Me
 is a French-Belgian computer-animated fantasy television series created by Joeri Christiaen. It originally premiered in the US on January 2, 2017, on Cartoon Network. It was removed from Cartoon Network in March 2017, due to its unpopularity and low ratings, but the series began airing on Boomerang on April 3, 2017, making
My Knight and Me
the 8th show (following
Grojband
,
Sonic Boom
,
The Garfield Show
,
Wabbit
,
The Tom and Jerry Show
,
Be Cool, Scooby-Doo!
, and
Shaun the Sheep
) that aired new episodes on Boomerang after originally being removed or cancelled by another network.
The series is set in the Dark Ages, and focuses on Jimmy the Squire, his friend, Cat the Princess, and his father, Henri the Orange, a chivalrous knight, as they embark on fun adventures.