New Looney Tunes (known as Wabbit: A Looney Tunes Production for its first season) is a spin-off of Looney Tunes that premiered on Boomerang on October 5, 2015. New episodes typically aired on Saturday mornings and re-runs also aired on Cartoon Network.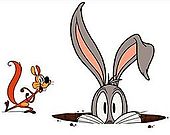 The series brings the Looney Tunes series back to its original slapstick roots after the sitcom-inspired series The Looney Tunes Show had ended its run. Each half-hour episode of Wabbit features 4 shorts, with each one featuring Bugs Bunny as the main character.
Home media
Edit
Hare-Raising Tales, a DVD set containing the first season, was released on DVD by Warner Home Video on April 26, 2016. Despite it having the complete season, it is listed as Season 1, Part 1.