Peanuts is an animated TV series based on the beloved comic strip by Charles M. Schultz. It first premired on Boomerang in May 2016, and re-runs also briefly air on Cartoon Network in 2016. The series left Boomerang's schedule on March 30, 2018, but later returned on April 30, 2018.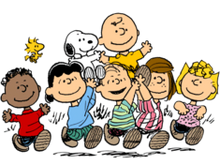 The series follows the comedic misadventures of the "Peanuts gang" from the comic strip, which is composed of Charlie Brown, his dog Snoopy, crabby girl Lucy, little Linus, tomboy Peppermint Patty, and a whole bunch of other characters.
A marathon of the series, Happy Birthday, Snoopy aired on Boomerang from August 6 to 28, 2016.
Home media
Edit
The series has been released on DVD by Warner Home Video:
V1: Snoopy Tales (January 24, 2017)
V2: Go Team Go! (April 25, 2017)