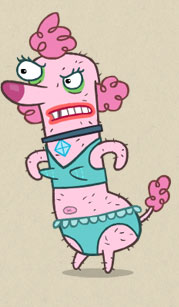 Poodle (voiced by Alyson Court) is a character from Almost Naked Animals. Poodle is Howie's sister and owns a rival hotel called the Chateau Chattoo.
Personality
Edit
Poodle always tries to ruin Howie's fun and tries to take over Howie's hotel
Appearance
Edit
Poodle is a pale pink dog of the poodle breed. She has pink fur, and a pink nose, she wears green mascara, and is missing one tooth. She wears turquoise brawls and pannies, she also wears collar with a diamond attached to it.