The Sylvester & Tweety Mysteries, produced by Warner Bros. Animation, is an animated television series which aired from 1995 to 2000 on Kids' WB, and later aired on Boomerang in various countries.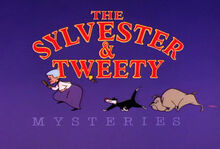 The show follows Looney Tunes characters Sylvester and Tweety Bird, and their owner Granny, along with bulldog Hector (who appeared in several cartoons alongside Tweety, Sylvester and Granny but was in the series given a new design similar to that of Marc Antony), as they solved mysteries, even with Sylvester still trying to eat Tweety in the middle of solving the mysteries, but Hector acted as a bodyguard for Tweety, and would even beat Sylvester up (usually out of shot, but sometimes behind a blind). The first season was dedicated to the memory of Friz Freleng, Warner Bros. animator and the original creator of the Sylvester and Tweety pairing. Freleng had died of natural causes at age 88 only months before the series premiere. Also, it contains one case per episode, in contrast to the other seasons, which are all with two cases.
Other Looney Tunes characters make cameo appearances, including Daffy Duck, Yosemite Sam, Elmer Fudd, Tasmanian Devil, Pepé Le Pew, Beaky Buzzard, Babbit and Catstello, Hubie and Bertie, Foghorn Leghorn, Witch Hazel, Michigan J. Frog, Rocky and Mugsy, Marvin the Martian, Hippety Hopper, Gossamer, Count Blood Count, Cecil Turtle, Nasty Canasta, The Crusher, Pete Puma, Goofy Gophers, Hugo the Abominable Snowman, and latter-day Warner cartoon star Cool Cat who appears in some form in most of the episodes. Bugs Bunny and Porky Pig don't appear in this series.
The final episode of the series never aired on Kids' WB (in which, after decades of trying, Sylvester succeeded in eating Tweety, but it turns out to be a dream), but did air on Cartoon Network in 2002.
Broadcast
Edit
The series originally aired on Kids WB from September 9, 1995 until February 12, 2000, with re-runs continuing to air until 2001. Re-runs of the series aired on Cartoon Network from 2001 to 2003, and again in 2015.
Re-runs on Boomerang:
Edit
In the US, the series first aired on Boomerang from August 17, 2015 until January 29, 2016. It returned to Boomerang's line-up on December 5, 2016 until January 1, 2017. It returned again to Boomerang on March 6, 2017, replacing Tom and Jerry and Looney Tunes, and left the schedule again on November 5, 2017. The series also aired on Boomerang in the UK from 2003 until March 30, 2015.