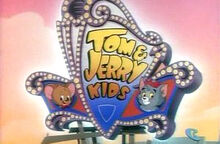 Tom & Jerry Kids (also known as Tom & Jerry Kids Show) is an American animated television series, co-produced by Hanna-Barbera and Turner Entertainment Co., starring the cat-and-mouse duo Tom and Jerry as children (kitten and mouse). The show premiered in 1990 and continued airing until 1993. It began airing as the third program of the FOX's children's block, Fox Kids on September 8, 1990.
The series is somewhat similar to the "older" version of the original theatricals, partly akin to being produced by creators William Hanna and Joseph Barbera, founders of H-B. In terms of violence level, they are far closer to the original cartoons than previous television adaptions such as Filmation's The Tom and Jerry Comedy Show although somewhat milder than Hanna and Barbera's version.
The series aired reruns on Boomerang from August 29, 2005 to May 30, 2014. However, it returned on July 30, 2018.