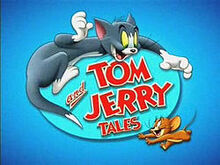 Tom and Jerry Tales is an animated television series that ran in the United States from September 23, 2006 to March 22, 2008 on The CW (as part of Kids' WB), spanning 26 episodes and 2 seasons (with 13 episodes in each season). The series stars the title characters from the Tom and Jerry shorts, and also is the first made for television iteration of the cartoons to emulate the theatrical shorts.
Tom and Jerry co-creator Joseph Barbera served as an executive producer before his death, and received story credit on some short cartoons, of the show's first season, produced by Warner Bros. Animation in 2005. Each episode consists of three short cartoons with approximately the same runtime as the original theatrical shorts. Also, each of the three shows that air in a 30-minute episode have some type of theme.
Boomerang broadcasts
Edit
Beginning in 2014, select episodes of Tom and Jerry Tales were available on Boomerang's On Demand service, which were removed after the series ended re-runs on the network. A few months later, the series officially began re-runs on May 23, 2015, where it continued to air until August 28, 2015. Although it no longer airs on Boomerang, re-runs continue to air on Cartoon Network. The series returned on March 6, 2017, replacing The Powerpuff Girls (2016 TV Series) and Scooby-Doo! Mystery Incorporated.